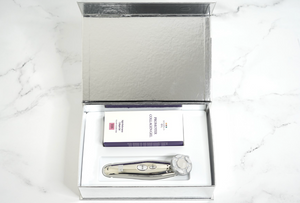 Professional Grade Low Frequency Ultrasound with LED is an at-home treatment for skin tightening and wrinkle smoothing from the plumping effect of Ultrasound vibrating at 90,000 waves per second to activate skin metabolism and regenerate skin cells. Output is the same frequency as a laser device but the energy is low so it does not damage the skin like the heat from a laser.
Time Master PRO works as the ultrasound waves cause a vibration of the surrounding skin tissues, known as "cascade of inter-cellular communication." It strengthens and lifts. 
As you move the device your skin will feel tighter, almost immediately. As you pass the treated area, and throughout this process, oxygen to the cells increases and removes wastes in the pores.
 The non-thermal (no heat) action of ultrasound is beneficial because of the rapid oscillation of tissue promotes movement between inner and outer cells and increases fibroblast activity necessary for increased collagen formation. The result is the complexion is plumped up with new collagen (this pushes the folds of the wrinkles out) and new elastin (this helps to tighten the skin and give it more bounce.)
LED Specifications: Blue is 470nm, Green is 520nm, Red is 650nm, Infrared is 940nm. Blue wavelength penetrates to 1mm, Green penetrates to 2mm, Red wavelength penetrates to 3mm, Infrared wavelength penetrates 5-10mm
The images below are BEFORE & AFTER images of just two Time Master Pro treatments. 
The EMS in our Time Master Pro® device uses a gentle, low-level 6V of EMS to stimulate facial nerves. When the nerves are engaged, they send a message to the brain. Neurons in the brain then return the message to the surrounding muscle fibers, causing them to expand and contract. This expansion and contraction are precisely what your body does when working out. When you use an EMS device on your face, think of it as every muscle group doing tiny crunches. The result is a toned look, with tighter and smoother skin with no downtime!

We have 43 muscles in our faces. To stay toned, they need to be active—and that's where EMS comes in. As your facial muscles get their workout from an EMS machine, your body responds by increasing the output of Adenosine Triphosphate (ATP). ATP is the primary chemical energy source for muscular functions, enhancing strength and flexibility. Your body also accesses ATP for cellular processes, driving skin cell turnover and renewal ­for firmness and suppleness.
Consistent EMS use can give your jawline and cheeks a more distinct, chiseled, and contoured appearance. EMS can also boost your overall cellular metabolism, increase blood circulation for a healthy glow, and support your natural lymphatic system processes to flush toxins out of the body.
Additionally, the firming and lifting each set of muscles reduces the appearance of fine lines and wrinkles while restoring the skin's youthful elasticity. As your collagen production accelerates, you benefit from all the goodness it brings! 
Contraindications of Ultrasound Therapy & LED:
For external use only and not to exceed the recommended maximum of 10 minutes

Do not use on broken skin or skin with inflammation, weeping or soreness or on a severe sunburn

Should not be used if you are pregnant or nursing

Do not use over metal pins and plates

Consult a physician before using with pathological skin conditions, a heart beat regulating medication / heart complaints, have a pacemakers or other battery operated and electrical implant, or if you have a neurological disorders including epilepsy or multiple sclerosis, cancer, autoimmune condition, diagnosed heart condition. 

Not for use on or by children between 12 and 17 years old without parental supervision and not recommended for children under the age of 12.
ADDITIONAL CONTRAINDICATIONS:
Do not use the Time Master Pro with any other electronic medical devices(s), such as: Pacemakers and other implanted type electronic devices, pump-oxygenators and other electronic medical equipment designed for sustentation, electrocardiographs and other electronic medical devices to be worn by the patient or an implant or an intrauterine contraceptive device.
Do not use the Time Master Pro without prior approval from your healthcare practitioner if are/have:
Pregnant or menstruating

Tumor

Thyroid problems

Metallic implants

Infections

Open wounds or sores

Temperature over 100.4 Fahrenheit

Cardiac health conditions

Extreme hypertension and cerebral infarction

Contagious dermatitis

En-topic dermatitis

Enigma

Herpes

Folliculate acne

Furnculous

Carbuncle

General lupus

Hepatitis

General sclerosis

Madison's Disease

Bleeding illnesses or

Injuries as ultrasound will increase blood circulation
DISCLAIMER: This information is not intended to diagnose, treat, cure, or prevent any disease. If you have (or think you may have) a medical condition, please contact your primary healthcare provider with your medical questions. Results stated are based on specific client results and may not be the same for every user.
Promoter Collagen Gel (150mL) contains carefully selected ingredients to improve skin while working to ensure ultrasound energy penetrates to the deepest layer of skin.

This collagen gel known as, "The Purple Gel" contains Azulene extracted from Chamomile. Azulene has antioxidants and anti-inflammatory properties. It is antimicrobial, anti-acne, and soothes irritated red skin. Promoter Collagen Gel also contains 4GF (EGF, FGF, IGF, TGF), PLLA (Poly-L-Lactic Acid) which are the main active ingredients from the Sculplla line to give total anti-aging skin care benefits.
It also contains PDRN, which stands for Polydeoxyribonucleotide, a Covalent bond molecule created using salmon DNA fragments. These molecules stimulate cell growth in tissues and speed up wound healing and increase the metabolic activity of cells in the skin by regenerating key components like collagen and glycoprotein.
More on PDRN
Polydeoxyribonucleotide (PDRN) contains DNA extracts of salmon. In addition to providing health benefits, salmon DNA has several anti-aging benefits. Studies have shown salmon DNA is an important key ingredient for repairing and rejuvenating the skin. PDRN is well-known for its ability to stimulate cell growth that accelerates cell proliferation and regeneration of skin and tissue. Studies support the findings that PDRN is beneficial for regeneration of skin and tissue.
Patented Biocion-N (Natural Antibacterial plant extract from Pinus Densiflora Leaf Extract, Chrysanthellum lndicu Extract, Rhus Semialata Gall Extract, Scutellaria Baicalensis Root Extract) works as antibiotic, antibacterial, antifungal, and antimicrobial
PLLA [Poly-L-Lactic Acid]
Bio-stimulatory dermal filler, which means it stimulates your skin to produce new collagen. PLLA will reduce wrinkles and helps to fill in hollow or sunken areas on the face. The effects of PLLA appear gradually over few months, producing natural results.
4GF [EGF, FGF, IGF, TGF]
EGF [Epidermal Growth Factor] activates epidermis cell regeneration, which acts at the molecular and cellular Ievel. EGF helps stimulating cell growth in tissues throughout the human body. Binding with the receptor EGFR, this protein increases the cell count and skin turnover while boosting the production of collagen and elastin resulting in reduced wrinkles and rejuvenated and improved skin texture.
FGF [Fibroblast Growth Factor] activates the processes of growth and divisions of skin cells, provides antioxidant and detoxifying effect, stimulates the proliferation of fibroblasts, healing wounds, embryonic development, and angiogenesis. It also promotes the blood vessels development and collagen synthesis of the dermis.
IGF [Insulin-like Growth Factor] is a factor in cell growth and multiplication booster, regulates intracellular metabolism, and stimulates cell renewal. Involved in the synthesis of collagen and elastin, improves firmness and density of skin.
TGF [Transforming Growth Factor] promotes collagen production and fibronectin, restores the structure of collagen and elastin.
Directions:
Apply directly onto clean, dry skin. HOP+ Promoter Collagen Gel can be used as a soothing gel (great for acne) and a conductive gel for ultrasound devices and also as a makeup primer to hydrate your skin before your makeup.
Ingredients:
Water, Caprylic/Capric Triglyceride, Isopentyldiol, Glycerin, Betaine, Niacinamide, 1,2-Hexanediol, Poly-L-Lactic Acid, sh-Polypeptide-22, sh-Oligopeptide-1, sh-Oligopeptide-2, sh-Polypeptide-15, Ceramide NP, Glycosphingolipids, Sodium Guaiazulene Sulfonate, Sodium DNA, Sodium Hyaluronate, Hydrolyzed Collagen Extract, Tremella Fuciformis Polysaccharide, Panthenol, Rhus Semialata Extract, Pinus Sylvestris Leaf Extract, Scutellaria Baicalensis Root Extract, Melia Azadirachta Flower Extract, Coccinia Indica Fruit Extract, Chrysanthellum Indicum Extract , Adenosine , Caprylyl Glycol , Acrylates/C10-30 Alkyl Acrylate Crosspolymer, Arginine, Ethylhexylglycerin, Disodium EDTA, Trehalose, Propanediol, Hydrogenated lecithin